Studying abroad is a huge step in every young person's life. Stepping out of your comfort zone is not always easy, but it is an invaluable experience that provides so many international opportunities. "The wide world is waiting for me," says Marharyta Strakhova, a Ukrainian Kaunas University of Technology (KTU) student, who went on an Erasmus+ study exchange to Spain and is convinced that this is just the beginning.
Speaking about her arrival in Lithuania, Marharyta said that she chose KTU after long research.
"It was not easy to find study programmes in the field I specialise in that are taught in English," says Strakhova, studying BSc Chemical Technology and Engineering at KTU.
All the universities she considered for studying abroad were located in the Baltic States, which made her dad, who is a big fan of the region, especially Lithuania, very proud.
"As I've never been to Lithuania, Latvia, or Estonia, I did a little research on each of these countries and checked out the universities there. My decision was influenced by the fact that, according to student and alumni feedback, KTU students have a very high level of employability," says Marharyta.
After living here for a while, she believes that Kaunas is a very beautiful city and the Lithuanian cuisine is very tasty, which is just another reason to come and stay here.
Made friends with Lithuanians right away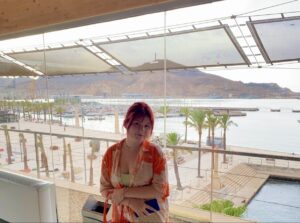 The Ukrainian KTU student says that it was not difficult for her to adapt to Kaunas. Marharyta always dreamed of studying abroad, so she was prepared psychologically to face the challenges that might arise.
"In the very first weeks in Lithuania, I met people who became my closest friends. If it wasn't for them, I probably would have just sat in my room and missed my home and family 24 hours a day, 7 days a week," says Strakhova.
Marharyta thinks that Lithuania and Ukraine have a lot in common – starting with the mindset of the people and ending with the climate. However, according to the girl who tried out a medical student's life for a bit in Ukraine, the education system in Lithuania and Ukraine seems different.
She emphasises that students are treated somewhat differently in Lithuania, and the relationships with teachers are warmer: "For example, at KTU, for me, it is much easier to ask for a deeper explanation of a topic."
In addition, since her first year at KTU, she has been delving more deeply into the major she has chosen. Meanwhile, in the first and second years of the Ukrainian university, in addition to these subjects, students also have to attend more general subjects, for example – the history of Ukraine, physical culture, and philosophy.
Took the opportunity to study in Spain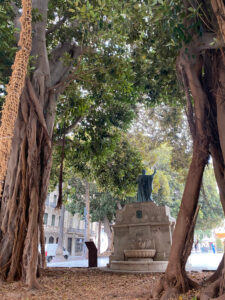 Strakhova says that her interest in new places has become part of her personality – she always travelled a lot with her family since she was a child.
"When I found out about Erasmus+, I realised that it was a great opportunity not only to gain international knowledge but also to experience everyday life in a completely new environment," says Marharyta.
After applying for Erasmus+ and choosing the Polytechnic University of Cartagena in Spain, she easily got the funding.
"The process of travelling and studying when you have to change countries was already familiar enough to me, as I had to move to Lithuania as well," says a KTU student from Ukraine.
When Marharyta went on an Erasmus+ exchange in Spain, she became aware of cultural differences: "The country was very different from both Ukraine and Lithuania, so it was much harder for me to adapt there".
In both Ukraine and Lithuania, she said, everyone tries to get along well with each other and give each other any help they need.
"In Spain, the academic groups are much bigger, about 40-60 students. This leads to the formation of friend circles, where people mainly communicate with each other. Besides, most of them don't speak English. So, it was a bit difficult to fit in because everyone already had their environment," says Strakhova.
However, although her experience in Spain was not easy, it motivated Marharyta to learn: "I quickly improved my Spanish and learned a lot about independent living – rent, paying bills, and other everyday things"
Talking about her plans, Marharyta shares her aim to continue her studies at the master's level. However, the girl has not yet decided which country is next on the list.
"I have a big world ahead of me, so why miss out on such opportunities to see it, right?" says Marharyta Strakhova, a KTU chemistry student from Ukraine.
Wondering about your next adventure? Check out Erasmus+ opportunities for KTU students. If you are not one, apply today. Admissions are open until June 30, 2023.